Stories of Support
Access for All
August 14, 2018
Campaign For Generations Includes Universal Access Efforts
Kim De Bruin fought back tears as she described her first trip to the Overlook Trail at Arcadia Dunes last year.
De Bruin, who has muscular dystrophy, has been in a wheelchair most of her life. The last time she was able to climb across the dunes was decades ago, when she was a teenager. But when the Overlook Trail opened in early 2017, she was once again able to explore the forests and dunes of her youth.
Shortly before the trail officially opened, she and her husband, Rob, visited the trail on a beautiful spring day. She became emotional as she recalled that first visit.
"I can't even put into words….I wish I could paint a picture of what that was like the first time and what it meant to me," she said. "I just cried and cried. It took my breath away."
De Bruin, who has ties to Arcadia that stretch back several generations, had always been able to see the woods and water from a vehicle. But there's something different – something much more meaningful – about immersing one's self in nature the way that the Overlook Trail allowed her to do.
"To see those things now, from a car, it's all still beautiful. But on this trail, my wheels were on the ground," she said. "Those are my feet."
The Campaign for Generations includes multiple projects with UA components, demonstrating GTRLC's commitment to providing access to nature of all people, regardless of age or ability.
"For a variety of reasons, many people in our community simply aren't able to go on the hikes or enjoy the outdoor experiences that so many of us take for granted," GTRLC Executive Director Glen Chown said. "Everyone deserves access to nature, and we're thrilled to offer universally accessible ways to enjoy some of our region's best natural attractions."
Work by GTRLC and others to provide universal access is welcome news to those with disabilities and those who support them throughout the community.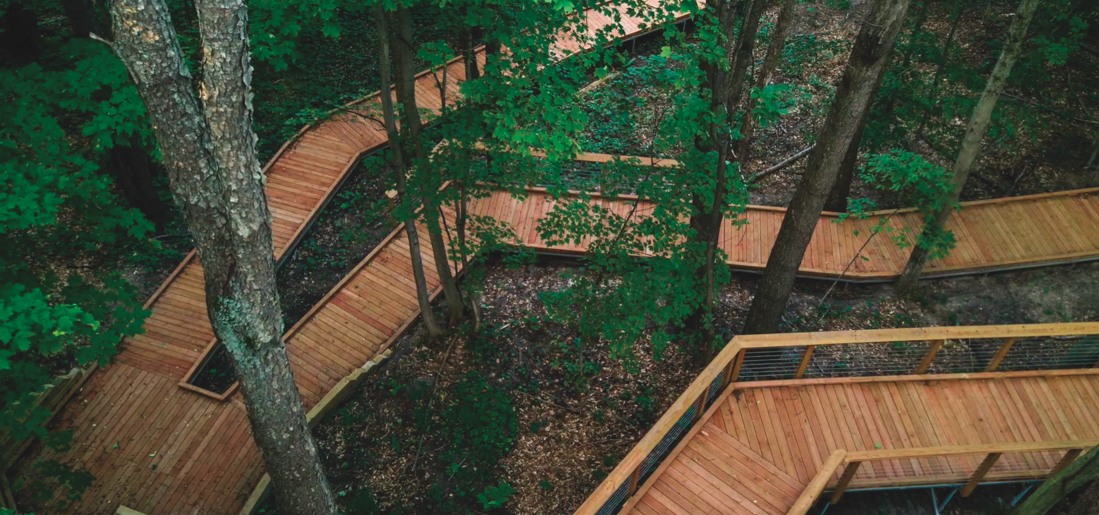 "It's very exciting when we can create these types of recreational opportunities for people with disabilities in the beautiful northern region of our state, especially because there aren't really enough opportunities for them to get out and enjoy our natural splendor," said Jim Moore, Executive Director of Disability Network Northern Michigan.
Over the past few decades, much work has been done to provide basic elements of accessibility for people with disabilities, particularly in public buildings and venues. Features such as the Overlook Trail begin to add that next layer of life-enriching elements, Moore said.
"People with disabilities have desires and dreams and interests just like the rest of us," Moore said. "By eliminating more barriers, it allows people with disabilities to enjoy full and exciting lives."
Although such trails are designed for people with disabilities in mind, studies have shown that UA trails benefit the entire community.
"We know that anytime we do something for people with disabilities, it actually makes things safer and more convenient for everybody else, whether you have small children and are pushing a stroller, or using a cane or walker, or have trouble getting around due to age," Moore said.
Down the road at Arcadia Marsh, GTRLC will break ground soon on a UA trail that promises to improve public access at a place that's brimming with things to see. The Flint-based Charles Stewart Mott Foundation provided a lead grant of $500,000 to be split between the Overlook trail and the new marsh trail.
Longtime Mott Foundation Chairman Bill White visited the trail last year and was personally inspired by both the trail and GTRLC's commitment to UA opportunities.
"I've reached the point where it's difficult for me to do any walking in heavy sand, but on that accessible trail, I can make it up there and enjoy a great view," he said. "We really enjoyed sitting out there and looking at the lake – it's just a wonderful place."
Now, he said, he's really looking forward to a similar opportunity at the marsh. UA opportunities are a great way to get multiple generations engaged with nature.
"If I go to Sleeping Bear Dunes, let's say, and my grandson is with me, well that guy can run up and down the sand dune three or four times without even thinking twice about it," he said. "Well, I myself have trouble even getting to it. So if you want people at different stages of their lives to enjoy something, you've really got to look at things with a long-term view."
Sam Passmore, director of Mott's environmental program, said including people of all abilities in outdoor recreation strengthens efforts to protect important natural resources such as, in the case of the Overlook Trail, the Great Lakes.
"It's really important that people of all backgrounds and all abilities have the opportunity to experience the grandeur of the Great Lakes and develop that attachment," he said. "It's restorative on a personal level, of course, but from a practical level, if people don't know about it, they won't care about it, and it won't be possible to sustain interest in protecting and restoring it. So that's another reason to build those types of facilities, so everyone in society gets a chance to experience and value how important that resource is."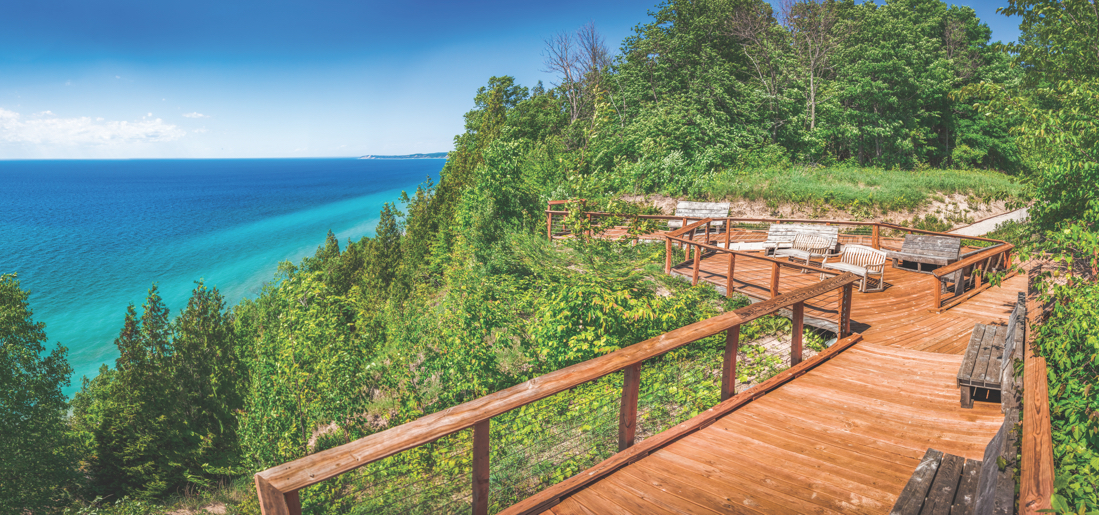 The Conservancy's UA efforts aren't limited to its own preserves. In 2017, we helped Grand Traverse County's Long Lake Township secure a Michigan Natural Resources Trust Fund grant for a UA trail at the Timbers Recreation Area. The trail will make it possible for people with mobility issues to enjoy the full beauty of this popular natural area, which GTRLC helped create in 2014.
"We're just so excited to offer this opportunity to people who may have never been able to experience these things before," Long Lake Township Supervisor Karen Rosa said.
Many things combine to make Timbers a very special place. Its central location close to the region's population center means it's only a short commute for thousands of people looking for an outdoor escape. Frontage on three different lakes – including the entirety of peaceful Fern Lake – and trails through beautiful woods and fields offer plenty to see, hear and enjoy.
But what's a simple walk for most people can be riddled with barriers for others. Rosa and other township officials desired something that would allow more people to experience Timbers' wonders.
"It's quite a distance from the parking area down to Long Lake or Fern Lake, which are two very popular elements of Timbers that people really want to see," Rosa said. "We got to thinking that that's fine for people who can walk well, but what about people in wheelchairs, or those who would like to take their children in strollers, or that kind of thing?"
GTRLC will have an active role in trail design and building, which is expected to take place in 2019.